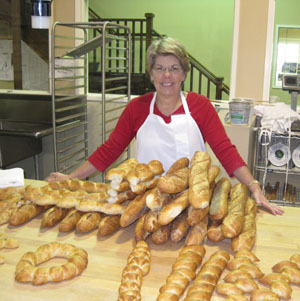 The San Diego Artisan Bread School was founded with the sole purpose of teaching home bakers how to make good tasting nutritious bread. The owner/instructor Kathleen Allenbach wants to bring the almost lost art of baking good bread back into our lives.
Kathleen, a baker since childhood, holds degrees in microbiology and chemistry and landscape architecture. She was executive vice president of a $35 million dollar manufacturing and distributing company. Kathleen has a love of history and has been lucky enough to travel around the world learning about different foods, cultures and traditions.
Kathleen has a passion for making bread. All kinds of bread, however, this wasn't always the case. Kathleen has never been shy in the kitchen and has a kitchen tool collection to be envious of, but making good healthy bread from scratch seemed daunting. Learning to make bread from a book was…well, let's just say it took a lot time and a whole lot of trial and error. After years of this trial and error Kathleen decided to take more formal professional classes.
Taking courses at San Francisco Baking Institute, King Arthur Flour, Johnson and Wales University, Le Cordon Bleu in Paris and The Artisan Bread School in Tuscany, Italy, combined with her corporate training background, gave Kathleen the ability to design and set up a unique program that successfully teaches the art of Artisan Bread. The more Kathleen learned about bread and its history the more she came to believe REAL BREAD is different from what one finds in the bread isle of the supermarket. She set out to bring GOOD BREAD back to the home baker.
The San Diego Artisan Bread School is designed to teach how easy it is for the home baker to make healthy and delicious bread. Our classes are intentionally small to ensure each student has personal attention every step of the way. At the end of the class students leave with loaves of bread that they made themselves. More importantly, they will leave with the knowledge of how to make bread in their own kitchens.